About ANZAAB

---
A brief introduction to ANZAAB
The Australian and New Zealand Association of Antiquarian Booksellers (ANZAAB) was formed in 1977 with the object of promoting the standing, welfare, and growth of the local antiquarian book business.

The Association is an affiliate of the International League of Antiquarian Booksellers (ILAB).
ANZAAB has over 50 active members and is the third largest association of antiquarian booksellers in the English speaking world.
ANZAAB aims to make statements on matters concerning antiquarian bookselling, book collecting, and library policy, and to bring public and political questions relevant to the business, a point of view that might otherwise be ignored.

It seeks to encourage between its members, and between booksellers generally, the observance of those courtesies and honourable practices traditionally associated with the trade; and per contra, to discourage practices capable of bringing disrepute to antiquarian bookselling.

In particular, ANZAAB seeks to encourage its members to achieve high standards of accuracy in descriptions of materials offered for sale.

One of ANZAAB's main activities is the organisation of book fairs.

Membership is open to booksellers who have, for a certain number of years, been engaged full-time in the buying and selling of old or second-hand books of some worth or consequence, and who are recognised for their expertise and good name.


---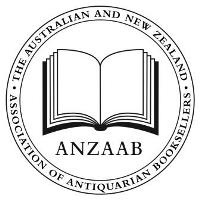 The ANZAAB Guarantee
The display of the ANZAAB logo is a guarantee by its members ensuring:


the authenticity of all material offered for sale
the expert and proper description of all such material
the disclosure of all significant defects or restorations
the clear, accurate and professional pricing of all material

---
The Australian and New Zealand Association of Antiquarian Booksellers Limited ABN 32 050 095 531 is an Australian public company limited by guarantee registered in New South Wales.