The culminating event of MRBW is always the Australian Antiquarian Book Fair, presented by The Australian and New Zealand Association of Antiquarian Booksellers (ANZAAB). This year saw the 51st iteration of the Book Fair, held once again at Wilson Hall at the University of Melbourne from July 27th until July 29th.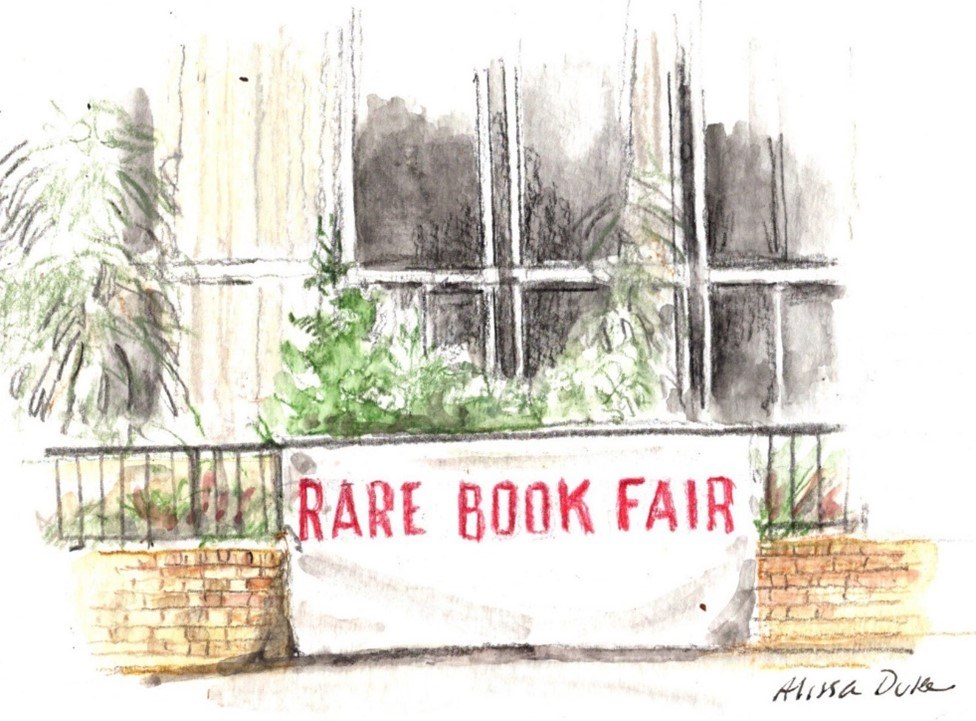 The organiser this year was again Tim White of Books for Cooks, and the Fair presented a large and diverse range of books, prints, manuscripts, photographs and ephemera shown by 25 exhibitors, who included two visitors from London, the eponymous Peter Harrington and Chris Sokol of Sokol Books. The local exhibitors comprised 12 from Victoria, 5 from NSW, 2 each from Queensland and South Australia and 1 each from the ACT and Tasmania.

The attendance seemed to this reviewer to be quite even across the three days, and it was pleasing to see many younger people in attendance, including significant numbers of students on the Friday.
There were many highlights at the fair, so it is difficult to give a complete and fair coverage, and the writer readily admits that this account largely reflects his personal tastes and interests. Peter Harrington's Second Folio of Shakespeare's plays (1632) attracted much interest and attention, although few visitors had the budget to contemplate a purchase.
Chris Sokol had many unusual and rare offerings of early books on topics ranging from Alchemy, Astrology, Erotomania and Witchcraft to Politics, History, Exploration, Law, Astronomy and Architecture. I was particularly taken by a book published in Lyon in 1497 that had contemporary annotations, and a copy of Johannes Keppler's De stella nova published in Prague and Frankfurt in 1606, the latter with wonderful star maps.
The Fair had three sets of part issues of Dickens to choose from: Bleak House (1852-53), Little Dorrit (1855-57) and Pickwick Papers (1836-37), offered by three different exhibitors. There was also a very nice copy of the Fanfrolico Press limited edition of Ecclesiazusai by Aristophanes (usually translated as Women in Parliament or The Assemblywomen) (1929) offered by Archives Fine Books. The book features wonderful line drawings by Norman Lindsay, and is signed by the translator and publisher, his son Jack Lindsay.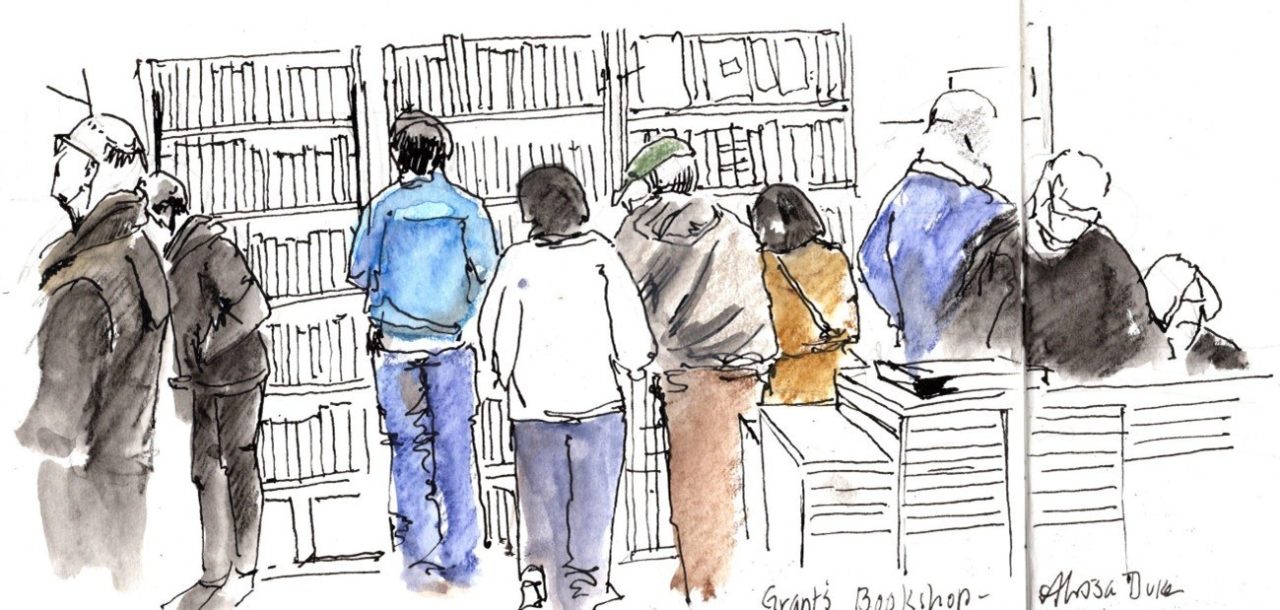 I spotted some nice Sherlock Holmes items at Grant's Bookshop, which included a first edition of The Hound of the Baskervilles (1902), with the binding in unusually fine condition, as well as several first editions of classic crime novels from the 1930s to 1950s in very good dust jackets. Michael Treloar had a veritable treasure trove of fine books illustrated by E H Shepard, including most of the classic A. A. Milne and Kenneth Grahame titles, many signed by the author or illustrator or both.
I also stopped to admire three examples of the great diversity of the Book Fair: the fine manuscript pages offered by Andrew Leckie at Littera Scripta, the interesting ephemera offered by Mark Burgess at Mark's Book Barn, and the high quality and varied prints offered by Daffyd Davies of Sebra Prints.
Kay Craddock had some fine and unusual illustrated children's books, including several illustrated by Thomas Crane, the lesser known brother of Walter Crane, which were illustrated in very much in the family style, and a nice early American edition of The Wind in the Willows (1928) illustrated by Nancy Barnhart, who managed to get her fine illustrations published just three years before E H Shepard rather cornered the market with his illustrations of Toad, Ratty, Badger and Mole.
Finally, the People's Choice award at the Book Fair was won by John Sainsbury of Sainsbury's Books, who, as usual, had an eclectic stand, with books ranging from 19th century novels to 21st century Folio Society editions, with many representatives of John's primary interests in art, photography and popular culture. All of this was surely epitomised by John's offering of a large coloured photographic print of the late, lamented Barry Humphries as a naked Dame Edna in a parody of the classic Lewis Morley picture of Christine Keeler posing on an Arne Jacobsen style chair. It was a great surprise to me that the photograph remained unsold at the end of the Book Fair.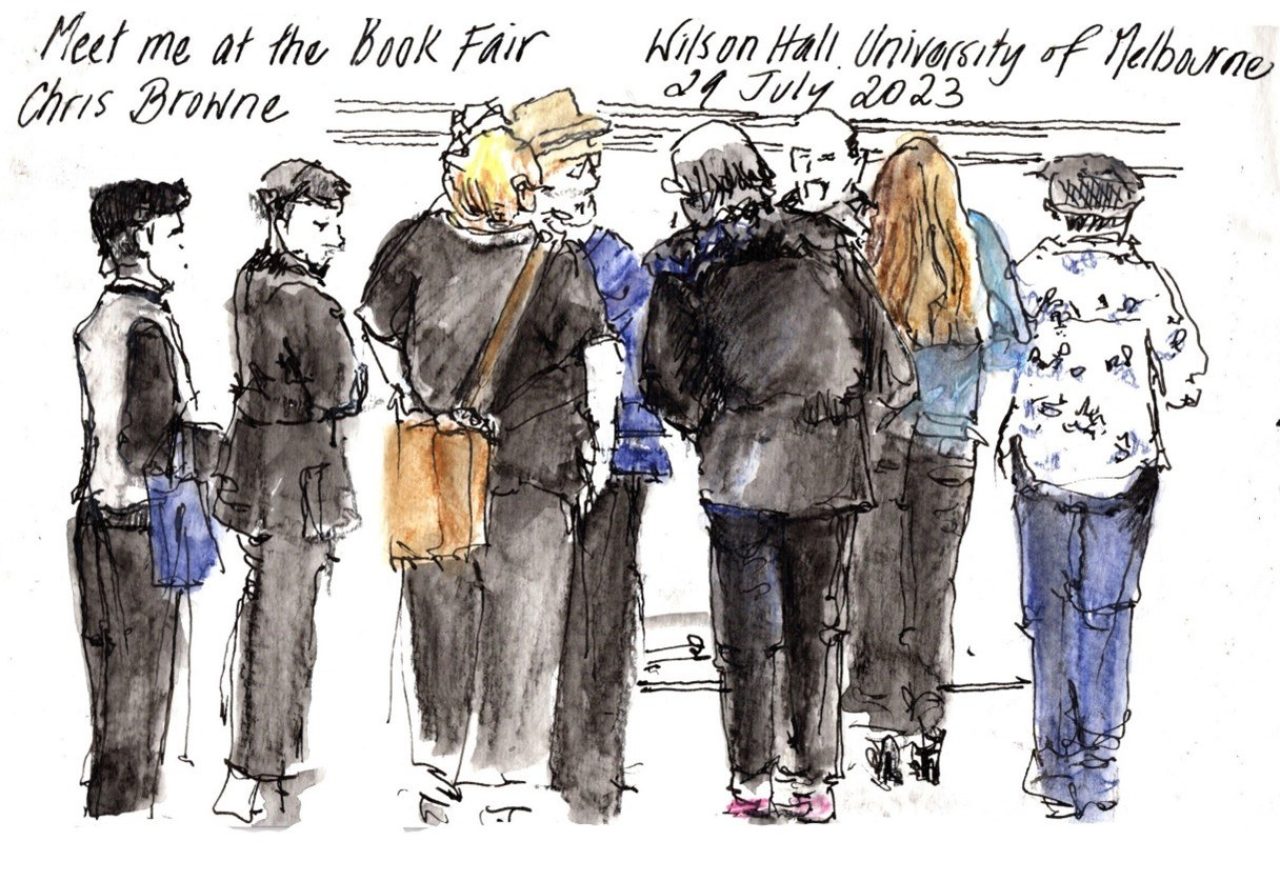 There were several tours of the Book Fair offered this year, with one, called "Meet me at the Book Fair" offered on Saturday morning by the book collector Chris Browne.
Chris led his party of nine "book tourists" around the fair, engaging with the book dealers and encouraging the tourists to explore the offerings. There were many highlights: Peter Harrinton gave a masterclass on his Shakespeare Second Folio; Dawn Abinger showed the group her Fanfrolico Aristophanes; Kay Craddock spoke to the group on the importance of the accurate descriptions of books and of building the relationship between buyer and dealer; Rachel Robarts at Horden House described the complexities of part issues of Dickens; Andrew Leckie explained some of his manuscript pages; Mark Burgess showed the group the varied nature of literary ephemera; Andrew Long showed what a general book dealer has to offer and pointed to some special mountaineering items. Several tourists made their first ever purchases at a Book Fair, and two who met during the tour have organised to visit regional bookshops in Victoria together.
Chris Browne
Honorary Secretary, Rare Books Melbourne
August 2023.